Cobbler
Michael DeHaan, <mdehaan@redhat.com>




Press space to continue...
About Cobbler
Project started ~2005
Goal #1: bring sysadmins together to create and share superior deployment technology
Goal #2: provide tools for both physical AND virtual deployments
Goal #3: embrace the unix philosophy; simple tools working together
it's an application
it's also a web service for applications
Who uses it?
A few examples: Who Uses Cobbler
Hosting companies
University departments
Research grids/clusters
Government agencies
Applications:

Various in-house software
Types of Installs That Cobbler Performs:
Netboot/PXE by MAC, IP, or menu
re-installs / upgrades of an existing Linux systems
network install ISO generation (PXE not required)
virtual machines -- kickstarts or images
Architectures supported (reinstalls & netboot):
x86 / x86_64
ppc / ppc64
ia64
s390 / s390x (requires Cobbler 1.5)
What Works?
Installation targets:

Red Hat Enterprise Linux
Fedora
CentOS, Scientific Linux
OpenSuSE
Debian (90% there)
Ubuntu (90% there)
Windows (virt, evolving)

Server platforms:

Red Hat Enterprise Linux 4+
any Fedora
Debian (partial; packaging pending)
OpenSuSE (partial; packaging pending)
Details about Bare Metal Installs:
Cobbler manages your PXE tree for you
Built-in PXE boot loop prevention
Auto-generated PXE menus for "off the truck" deployment
"cobbler buildiso" for situations that can't do PXE (static/policy-driven)
Details about Reinstalls:
Suppose you don't have a PXE environment
You can reinstall a host over SSH
You can also perform upgrades this way
Works well with Func
Details about Virtual Installs:
Uses a helper tool called "koan"
Virtualization parameters are centrally managed
Control over RAM, CPU, disk
Built in support for LVM volume groups
Choose your own adventure:

libvirt guests: Xen PV, FV, KVM
non-libvirt: VMware server, workstation, ESX (?)
Need A Picture?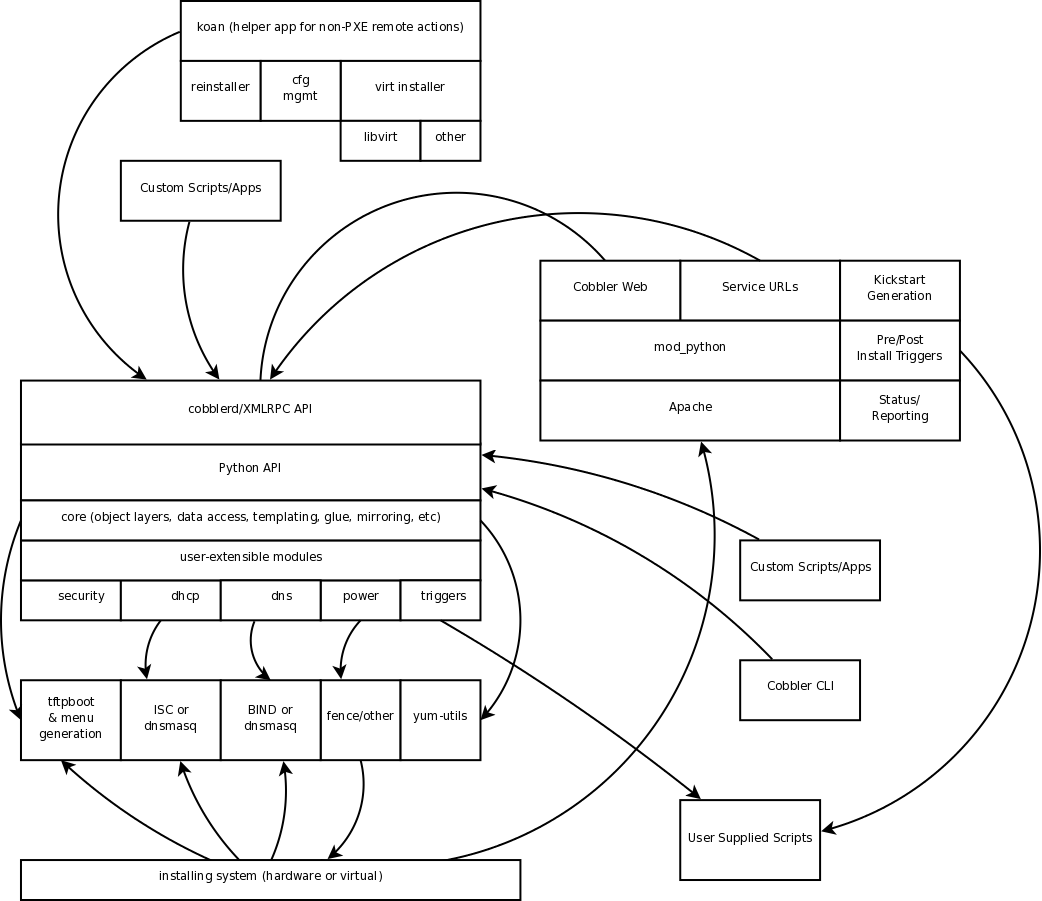 Power Features:
Cheetah Powered -- Open Ended Templating Engine On Steroids
Snippets
Integrated Yum Mirroring
Advanced Networking Configuration -- bonding, vlans
DHCP Management
DNS Management
Power Management
Configuration Management Hooks (puppet)
Built-in Lightweight CMS
BIOS/Firmware upgrades (ex: Dell, HP)
Remotely erase machines (DBAN)
Extensive anaconda monitoring features
Multi-server replication (picture: next slide)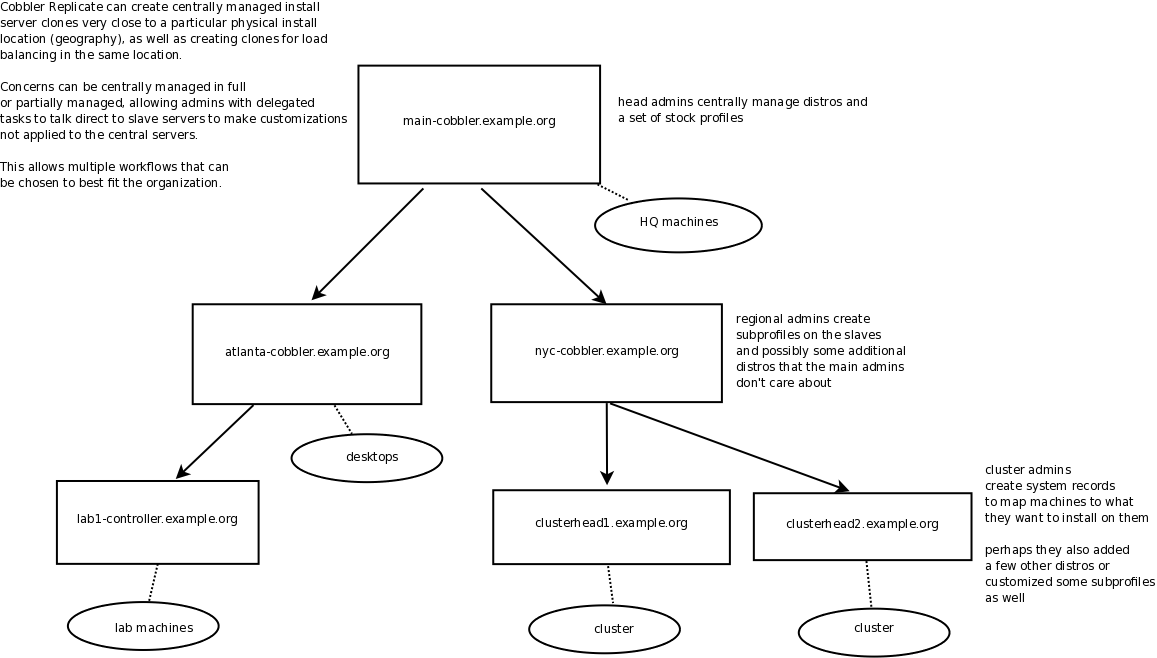 Easy setup process:

yum install cobbler
vim /etc/cobbler/settings
cobbler check
vim /etc/cobbler/settings # maybe

Command line access is simple: Setup:

cobbler import --name=RHEL5 --mirror=/mnt/dvd
cobbler import --name=Fedora --path=rsync://foo

Create and edit distros:

cobbler distro edit --name=RHEL5-i386 --kopts="noapic x=y z=4"

Define some roles for your systems to fill:

cobbler profile edit --name=RHEL5-i386 --kickstart=/path/to/template.ks --ksmeta="somevar=1 othervar=2" 
cobbler profile copy --name=RHEL5-i386 --newname=webservers
cobbler profile edit --name=webservers --virt-ram=2048 

Map hardware to those roles:

cobbler system add --name=foosball --mac=AA:BB:CC:DD:EE:FF --profile=RHEL5-i386
cobbler system edit --name=foosball --ip=192.168.10.50 # DHCP reservations!
cobbler system edit --name=foosball --dns-name=foosball # DNS setup

Reinstall systems you have defined:

cobbler system edit --name=foosball --netboot-enabled=1 
cobbler system reboot --name=foosball

Also help manage updates as they relate to installation and post-installation:

cobbler repo add --name=f10-updates --mirror=http://foo
cobbler reposync
cobbler profile edit --name=desktops --repos="f10-updates"

Want to install a VM? Everything is easy, since it's centrally managed

koan --list-profiles [--server=cobbler.example.org]
koan --virt --profile=foo [...]
koan --virt --system=bar [...]

Reinstall a physical box?

koan --replace-self --system=bar

Users don't have to remember 15 different virt parameters!
We have a Web UI...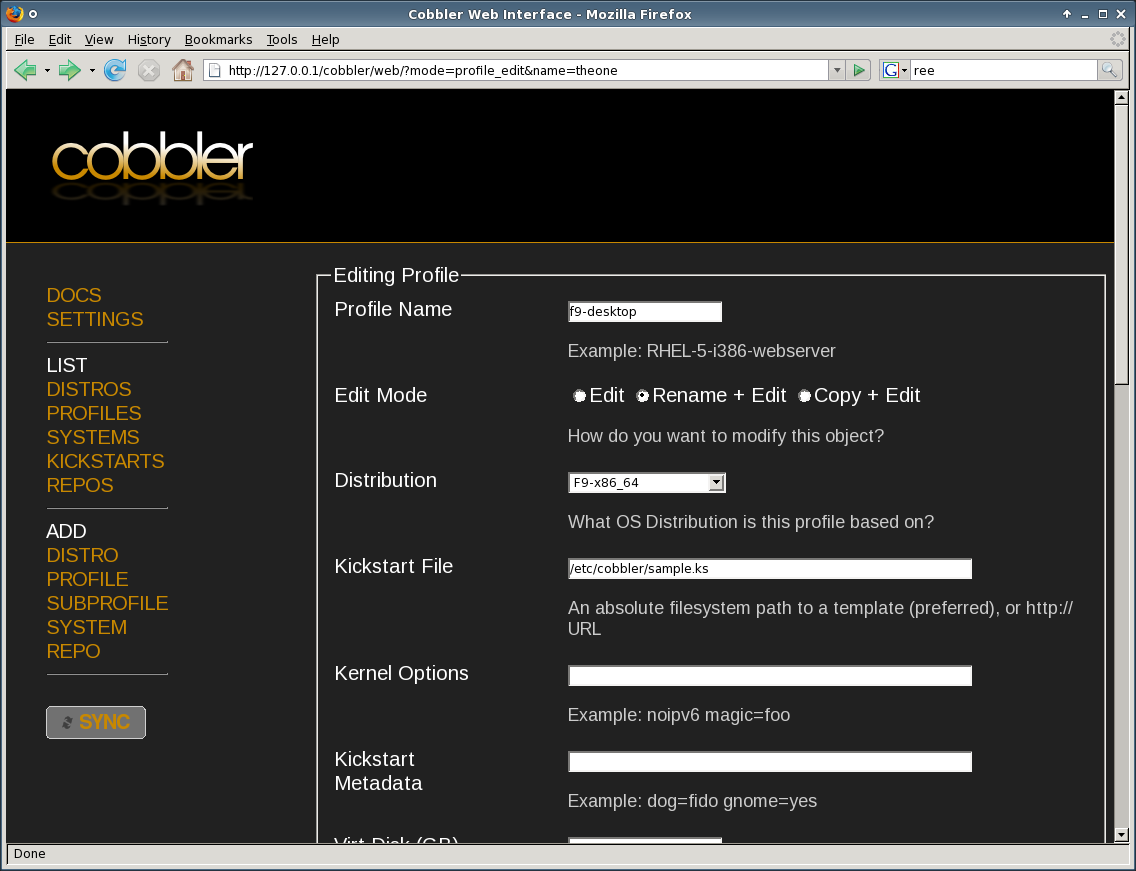 For Developers:
Python API
XMLRPC API
Triggers system for hooking in with other software
User extensible authn/authz
Release cycle:
Relatively fast moving due to lots of contributors
All code kept in git
Kernel versioning scheme, odd=development, even=stable
Current stable is 1.4.X
Stable dot releases on current branch as needed
New major releases every 2-3 months, ideally 1-2 months
Future roadmap and plans:
Better cross-distro support for non-homogenous environments
Keeping up with virtualization developments
Continual web app improvements
Integration with other config management systems?
All the great ideas people have shared in Trac.
World domination -- be THE go to install server for any OS